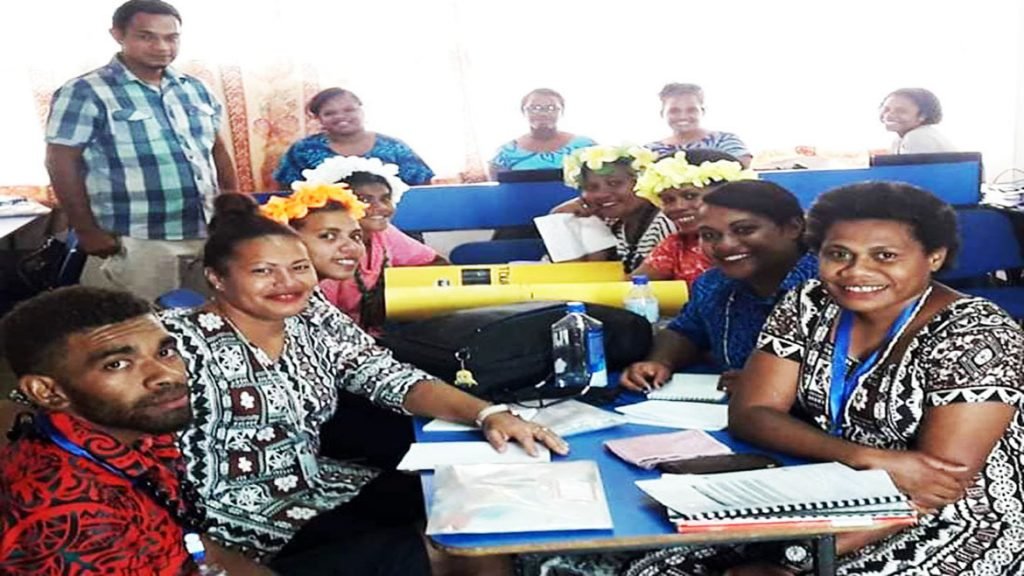 Vishan Infotech was incorporated in the year 2003 to provide quality training in the field of information technology. Since then, at the very early stage we got our Institution recognised & registered by Ministry of Education, imparting quality education to the people of Fiji in the field of information technology. In due course, we also got our facilities and courses approved & certified with Training and Productivity Authority of Fiji (TPAF) in order to gain FNPF Educational facilities to our students. Our courses are monitored and coordinated by highly qualified and trained tutors and lecturers both from overseas and local. Our facilities are also monitored by other institutions such as Occupational Health and Safety (OHS) and National Fire Authority.
As an higher education provider, we have evolved into a leading training institute. We recognized the rapidly changing IT landscape in Fiji and have innovated our teaching and courses over the years. We at Vishan Infotech, are committed to creating globally competent IT professionals through our innovative teaching methods, advanced courses, exceptional faculty and thought leadership in IT education. Our training and best practices are bench marked along international lines. We are grounded by the foundation and values of our past but are youthful and progressive in our present and will continue in the future . All our endeavors at Vishan Infotech are to create opportunities for our students, employees, business partners to lead a better life.
Vishan Infotech Believes in Delivering The Best and That To In Low And Affordable Rates.
Today, after 18 years Vishan Infotech have created its own brand in Fiji, and have made great footmarks in the field of Computer. In these 18 years this institute also went forward and become one of the few institutions to get recognition from Fiji Higher Education Commission as early as 2011 and subsequently got registered in year 2013, thus becoming one of the prime institutes to be part of Fhec Family. Having a trained and experienced staff this institute is scaling new heights and offering best programmes Approved by Fiji Higher Education Commission (FHEC)
Our programs are designed and directly linked to the needs of corporate world ensuring our students receive the right industry training and education. The programmes are approved & accredited by Fiji Higher Education Comm (Fhec) which ensure our graduate students on par with any other institutions or universities in Fiji. We are devoted to excellence in teaching and learning, our classrooms are equipped with interactive online-learning content with rich multimedia features that make learning easy to understand. Our best in class faculties and emphasis on practical learning and collaborative sessions ensuring a holistic learning environment for our students.
Why Study @ Vishan Infotech?
Students at Vishan Infotech can be confident they are getting a recognised, relevant qualifications. Vishan Infotech courses are approved by the Fiji Higher Education Commission and accepted by relevant business houses, industry professional organizations, and other Higher Education institutions. Our Vision, Mission and Values are all clear basing on which we transact our business. People choosing to study at Vishan Infotech, choose a quality education that gives them the job and personal skills to succeed in their chosen career and achieve greater heights in life. Other major advantages of studying at Vishan Infotech include: Qualified and experienced staffs Recognition & Registered institution. Hands on practical/on-site training. Fully air conditioned, OHS compliant lecture rooms and computer labs. 24×7 internet access. Every effort made to get graduates into employment.
OUR MISSION
Provide appropriate learning and development opportunities for our people. Meeting the expectations of our students and relevant customers. Maintain & Practice professional standards in our operation. Meeting market expectations in regards to Educational Hardware & Training resource.
OUR VISION
To be one of the best Higher Education provider in Fiji.
OUR VALUES
The operations and activities of Vishan Infotech will be driven by: Integrity and sincerity. Fair treatment in dealing with our students and customers and the expectation of fair treatment in return. Open and honest consultation with our staff, students and customers. The provision of real value in our offerings to our staff, students and customers.